After nearly 9 months of using Digital Ocean Spaces to backup data for WordPress sites, I decided to part with it and switch to using it. Hetzner Storage Box. This article will introduce you to Hetzner's Storage Box storage service at an extremely attractive price: 1TB for only €2.9 / month.
I. Introduction to Hetzner
Hetzner (Hetzner Online GmbH) is a German company specializing in providing very famous Server / Cloud VPS services in Europe. In terms of reliability, Hetzner is one of the famous server service providers in Europe, on par with OVH – the largest server provider in Europe and the third in the world. However, because Hetzner only has datacenters in Germany and Finland, little is known outside of Europe.
Hetzner is one of the VPS services I appreciate the most today in terms of quality. You can review my Hetzner Cloud review article below.
II. Introducing Hetzner Storage Box
Previously, I had researched about Hetzner's Storage packages and was not impressed because the price was too high. But a few weeks ago, I learned that Hetzner has updated the new price for Storage Box services with an irresistible price, from only €3.45/month for 1TB of storage.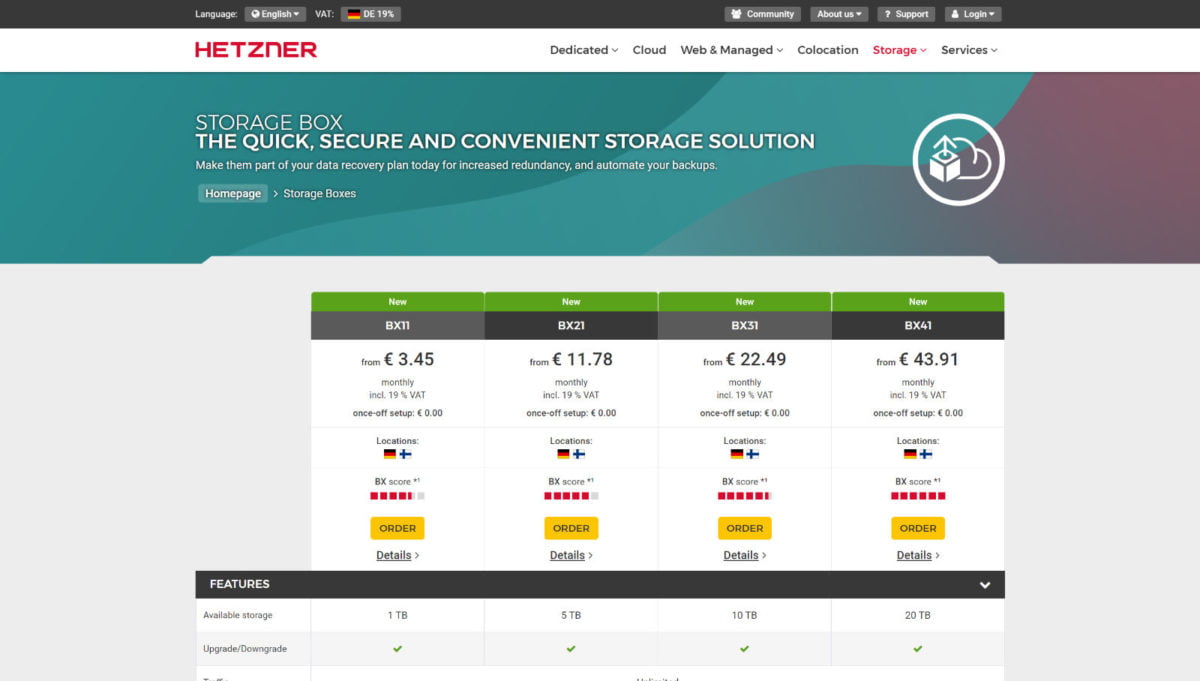 Here's a comparison of Hetzner's Storage Box plans with old and new prices
| Storage | Old Plan | New Plan Equivalent | Old price | New price |
| --- | --- | --- | --- | --- |
| 1 TB | BX30 | BX11 | €9.40 | €3.45 |
| 2 TB | BX40 | — | €11.78 | — |
| 5 TB | BX50 | BX21 | €26.06 | €11.78 |
| 10 TB | BX60 | BX31 | €47.48 | €22.49 |
| 20 TB | — | BX41 | — | €43.91 |
The most attractive of these is the package BX11 with 1TB storage for only €3.45/month (more than 1/2 off the old price). There is also unlimited bandwidth, comfortable storage, data backup without worrying about running out of bandwidth.
See details of Hetzner's Storage Box packages here: Storage – Hetzner Online GmbH
Here is a comparison of Hetzner's BX11 package with the 250GB Space package I'm using on Digital Ocean:
| Feature | Hetzner BX11 | Digital Ocean Space |
| --- | --- | --- |
| Storage | 1 TB | 250 GB |
| Bandwidth | Unlimited | 1 TB |
| Storage Type | File Storage | Object Storage |
| Management interface | Do not have | Have |
| Use as a CDN? | Are not | Have |
| Connection protocol | FTP / SFTP / Samba / SSH / rsync / WebDAV | API |
Hetzner's Storage Box package clearly has a price-to-storage advantage over Digital Ocean. There is also unlimited bandwidth compared to only 1TB bandwidth on Digital Ocean.
The limitation of Hetzner is that the Storage Box storage system is set up in RAID on a fixed server, in the form of File Storage, not in the form of Object Storage like Digital Ocean. This means that data can be lost if the entire server's HDD dies at the same time or the Datacenter burns out. (In 2021, OVH's Datacenter in France was completely burned down: OVH Data Center Fire Darkens Popular Sites Worldwide)
Your files on Storage Boxes are safeguarded with a RAID configuration which can withstand several drive failures. Therefore, there is a relatively small chance of data being lost. Important warning: You, the customer and administrator, are responsible for your data; there is no guarantee from Hetzner about potential data loss. The data is not mirrored onto other servers. (Source: Hetzner)
Although the risk of data loss is very low, you should be aware of this nonetheless. If the data is important, you should consider backing up an additional copy at another provider, or use another service for peace of mind.
III. Experience the Hetzner Storage Box
I ordered the Storage Box BX11 service here: Storage – Hetzner Online GmbH
The actual price when ordering for the BX11 package is only €2.9 / month because customers outside the EU do not pay 17% Tax. 1 TB of storage only costs about 75,000 VND / month, so fragrant!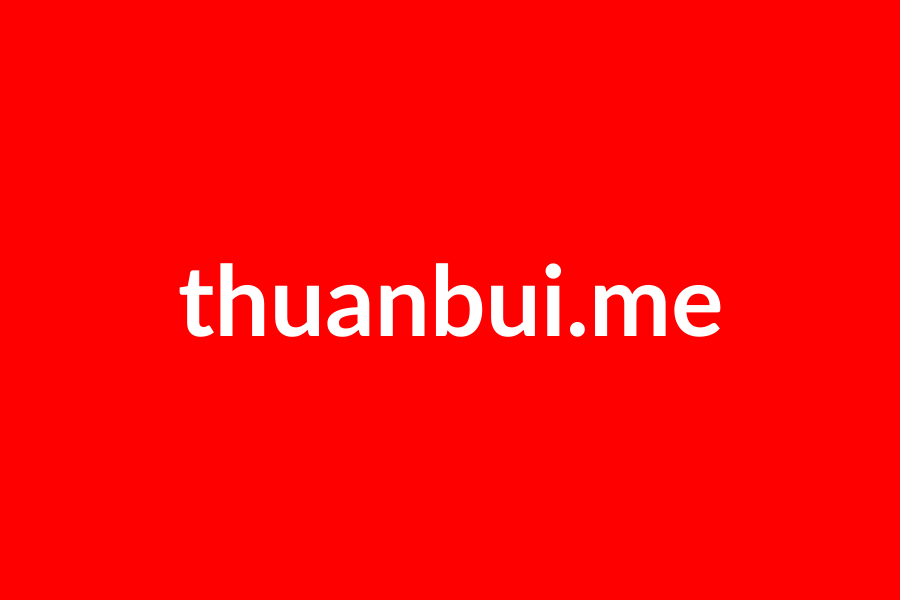 After ordering, wait about 5 minutes, Hetzner will send an email notifying that the Storage Box is ready.
I access the Storage Box management page and enable all WebDAV, Samba, SSH services to be able to freely connect from the outside.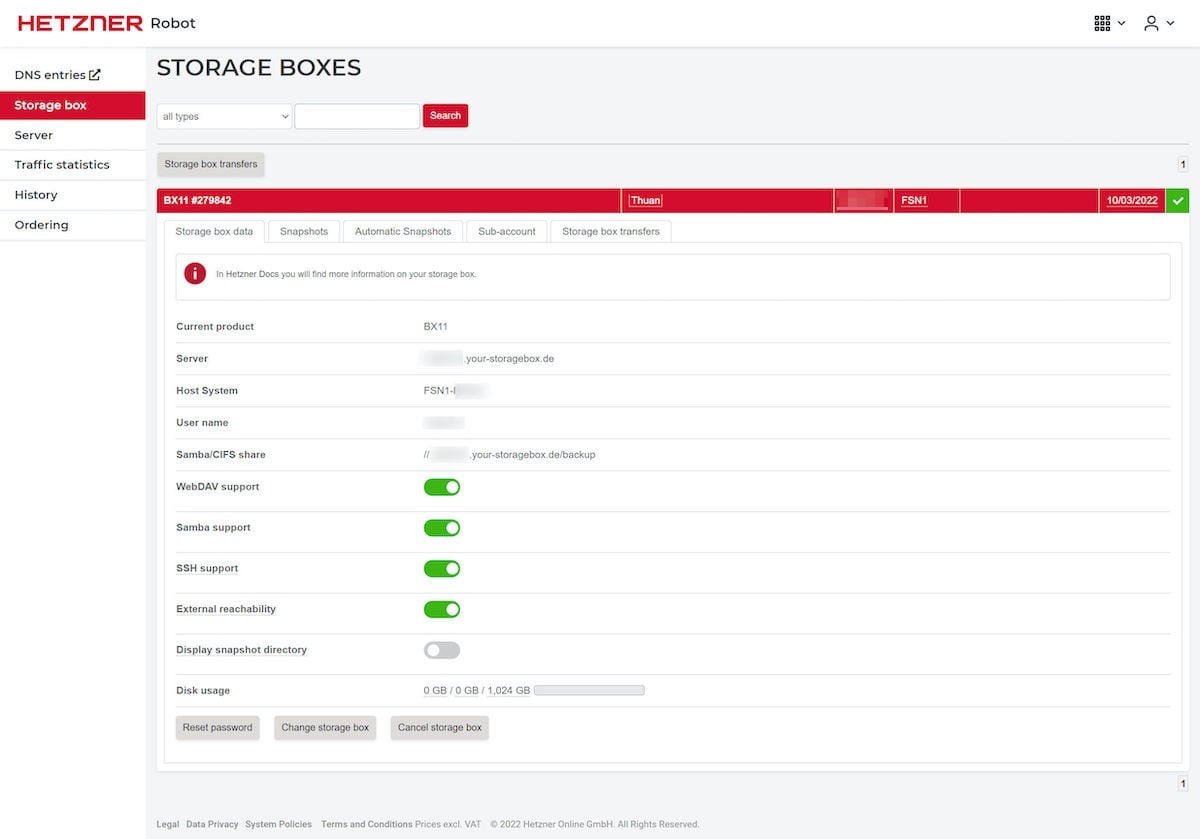 You need to click the button Reset password to create a new password for the Storage Box. This password will be used to authenticate all supported connection protocols. This password only appears once, so you need to save it somewhere to be able to use it later.
1. Create a Sub-account
For added security, the Hetzner Storage Box has a sub-account creation feature to limit the folder that can be accessed and the connection protocol.
Access the Sub-account section and click the Create button to create a new sub-account. Then set the corresponding parameters and click the Save button.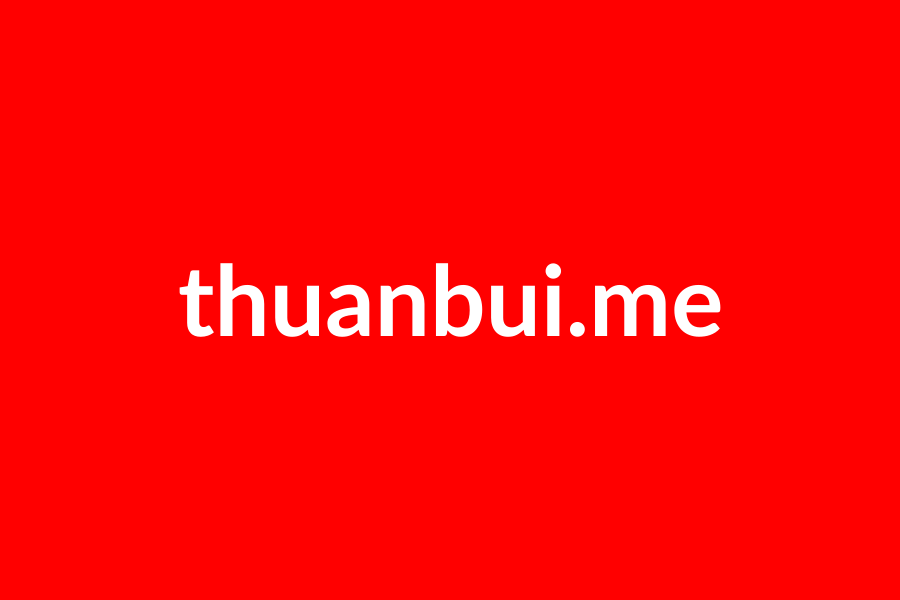 2. Create a network drive on Windows 10
For ease of management, I will create a network drive on Windows 10, linking to Hetzner's Storage Box.
Open Explorer, right-click This PC and select Map Network Drive.
Enter the Samba/CIFS share address displayed on Hetzner's management page into the Folder section. You need to change the sign // wall \. Click Finish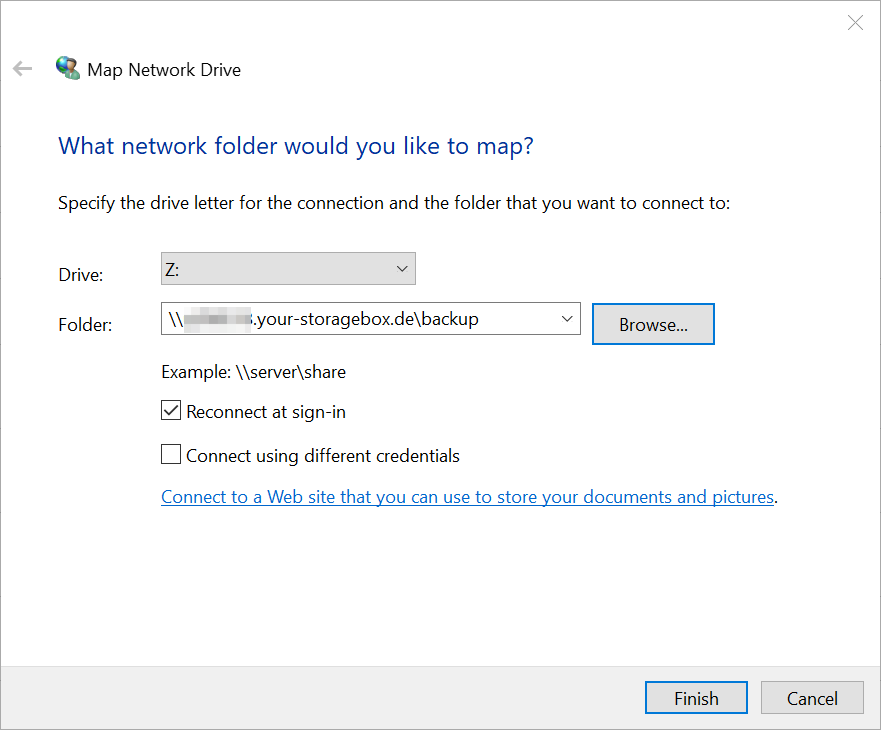 Enter the account name and password to verify the account:
User name: uxxxx (see on Hetzner)
Password: the password you just reset earlier.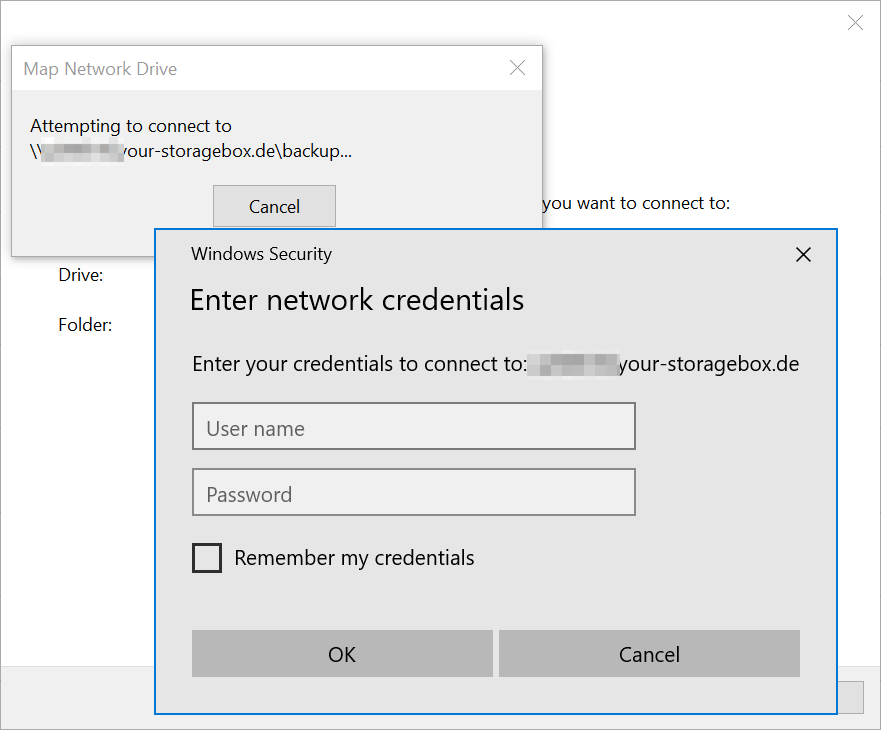 Test the Network Drive capacity: display exactly 1 TB as the parameter on the web.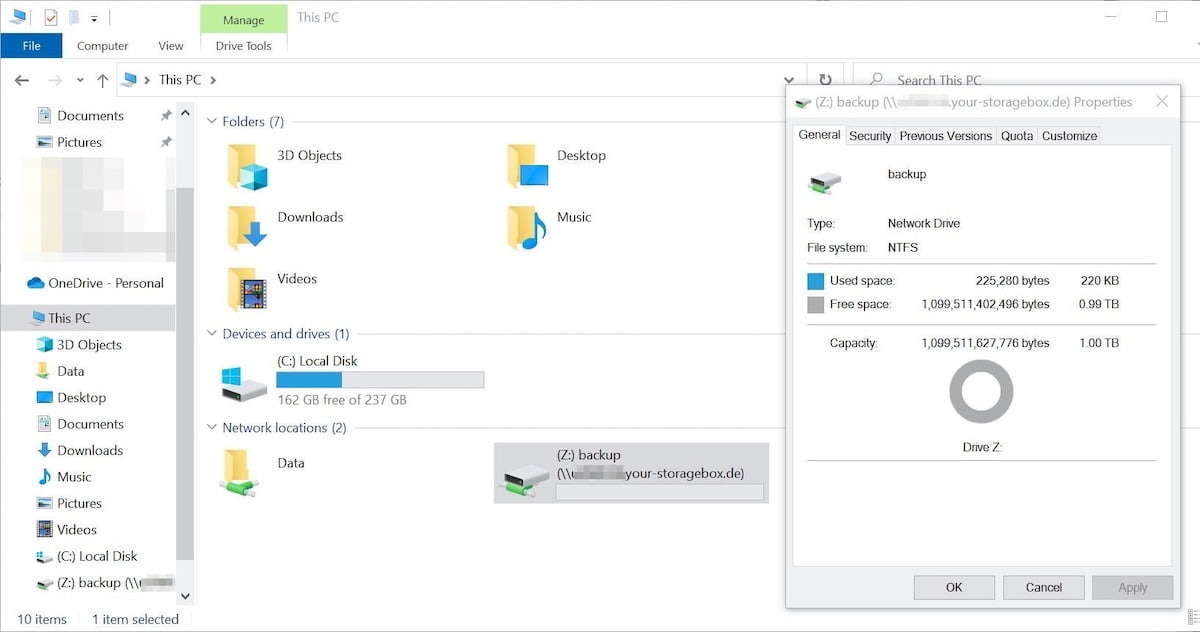 3. Connect via SFTP/rsync
I can also connect to the Storage Box using the SFTP protocol to automatically backup WordPress with the Updraft Plus plugin. Note, must change the access port to 23not the default port 22.
I can also use the command rsync to sync data from VPS to Storage Box or vice versa.
rsync --progress -e 'ssh -p23' --recursive <local_directory> <username>@<username>.your-storagebox.de:<target_directory>
4. Access via https
To quickly check and download files from Storage Box, I can access it directly via https connection.
Open a web browser, go to the address https://<username>.your-storagebox.de, then enter the account/password to confirm. The browser will display a list of files and folders available on the Storage Box.

IV. Epilogue
With a cost of ~75,000/month for 1TB Cloud Storage, Hetzner Storage Box is one of the cheapest and most nutritious data storage solutions available today. It supports many connection protocols, making it easy to customize to suit your data storage and backup needs.
Here is a review of the advantages/disadvantages of the Hetzner Storage Box
Advantage:
Supports multiple connection protocols: FTP / SFTP / Samba / SSH / Rsync / WebDAV
The price is so cheap: €2.9/month for 1TB of storage.
Unlimited bandwidth.
Defect
The storage drive is set up in RAID on a single server, so data may be lost if the server has hardware problems.
Datacenter in Germany and Finland, may be slow to connect to Vietnam during the "cable break" season.
Order the Hetzner Stroage Box here:
If my article has provided valuable insights and information to you, consider showing your appreciation with a virtual pat on the back or a kind message. Your encouragement will drive me to continue creating and sharing informative content. Thank you for taking the time to read!